Beautifully Natural Hardwood to Fit Every Room
As a timeless flooring solution, hardwood floors have long been a popular trend in the flooring industry. Known for their naturally warm characteristics, unique grain patterns, and subtle nod to tradition, hardwood floors have a limitless appeal. But for many, installing hardwood floors has been risky, and homeowners worry about scratches, warping, and water damage. Luckily for you, we carry a line of attractive hardwood flooring options from top performance brands here at Rheinschmidt's Flooring America in Burlington, Iowa.
Stop by our showroom and browse our collection of hardwood options, from hand-scraped hickory to vintage knotted pine. Our flooring experts will carefully guide you through each hardwood to explain the features and benefits of the product and help you find the one to best match your design needs.
With our 500-store buying power, Flooring America has access to the best brands in the flooring industry at prices that benefit our customers. With this advantage, we can offer you budget-friendly prices to exclusive brands, including:
Aquadura H2O
Downs
Floorcraft
Baroque Flooring
Mannington
Shaw
Lauzon
Kahrs
Johnson Hardwood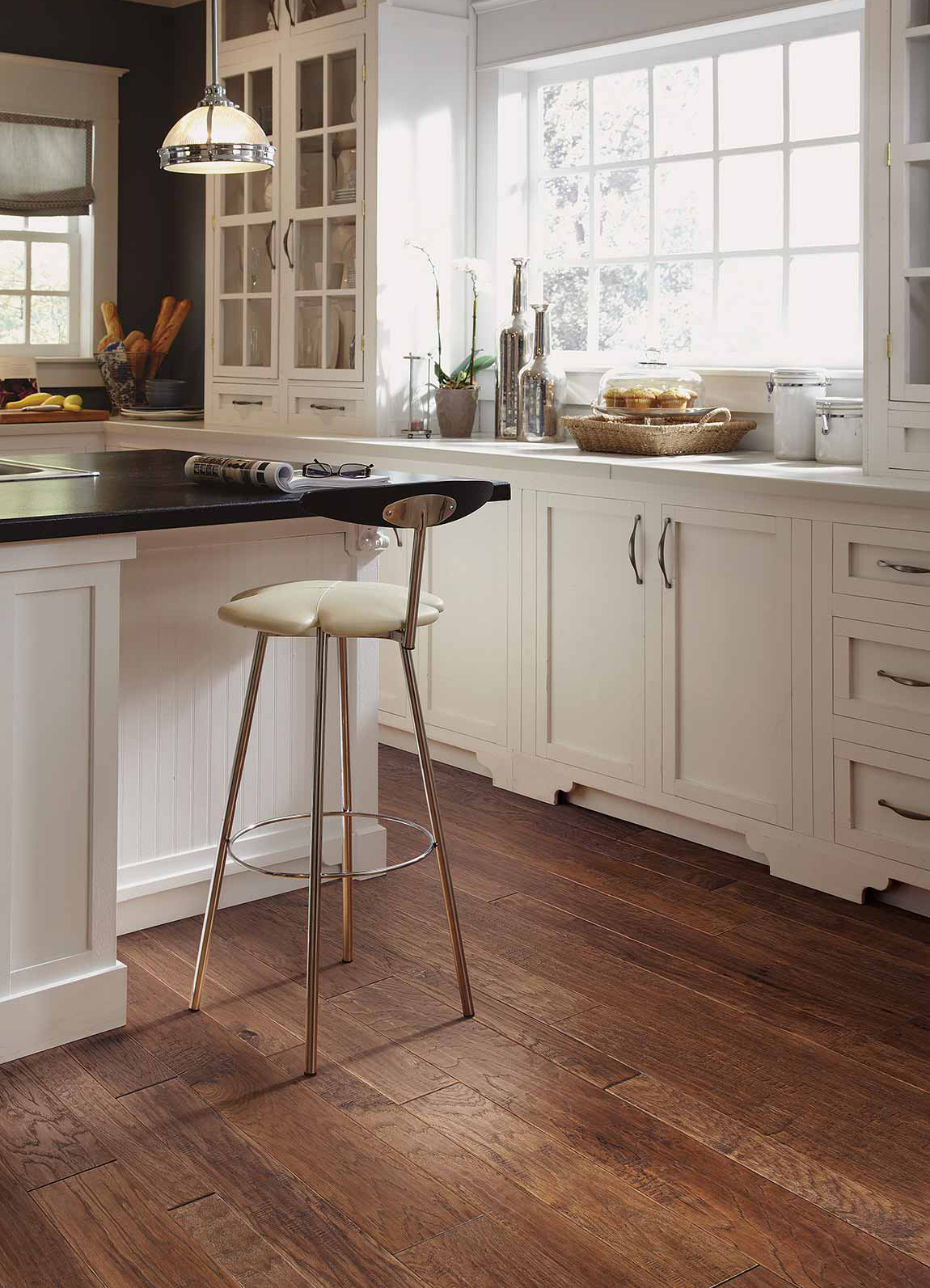 What Is the Difference Between Solid & Engineered Hardwood?
When choosing the perfect hardwood flooring for your lifestyle, you'll want to consider where you are installing the floors, how heavy the foot traffic is in that room, and the overall aesthetic you desire. You have the choice of either solid or engineered planks. The traditional hardwood is made entirely of a solid wood species throughout; however, engineered hardwood is designed with crosscut plywood fused together and a strong surface wear layer of natural wood.
This way of engineering the planks together increases the stability of the hardwood and avoids warping or expansion, making them suitable for humid conditions. Although engineered hardwood is more costly than solid hardwood, it can withstand more foot traffic and performs better in wetter climates, perfect for bathrooms and kitchens.
Keeping Your Hardwood Floors Clean
The advantages of having hardwood floors are endless, ranging from natural aesthetics to added long-term value to your home, but perhaps the most significant benefit is their ease of maintenance. If you clean and dust your hardwood floors regularly, they will look brand new for years. Hardwood floors should be mopped with a wet mop and a warranty-certified cleaner to keep their pristine look.
You can achieve the hardwood look of your dreams in moisture-prone areas of the house with our exclusive Aquadura H2O items. These hardwood floors are child- and pet-proof thanks to a 100 percent waterproof sealant, making them the ideal option for busy households.
Professional Hardwood Flooring Installation
When it comes to installing your brand-new hardwood floors, you can count on the team of professionals at Rheinshmidt's Flooring America. With such a significant investment, you want to make sure your installation is handled by an experienced installer and our team is familiar with our product brands. A smooth hardwood installation is guaranteed with our Ultimate Confidence Guarantee. Our experts have the right tools and expertise to ensure a quick and effective installation.
If you are at all unhappy with your new floors, we will replace them at no cost to you within 30 days of installation, providing a product of a similar price. We are committed to helping your design aspirations come to life and will find the hardwood floor to match.
Contact us today to learn more about our hardwood flooring products and begin your journey to beautiful new flooring. We proudly serve customers in Burlington, Wever, New London, IA, and surrounding communities.